Welcome to nature
The campus is developed along the principle of nature conservation.  Over 190 species of native forest trees and shrubs are planted to create micro-biospheres that are cooling and attractive to birdlife.  The flora are carefully selected for their function, aesthetics and suitability of climate and soil type.  With its scenic greenery and tropical landscape, Wisdom Park will be a natural sanctuary of learning where many beings can rejuvenate their minds and spirits.
Relentless green warriors
In November 2018, the 'Subcommittee on Ecology, Horticulture & Landscaping' was created. Nicknamed the "Green Warriors of Wisdom Park", the group is tasked with greening the 39-acre campus and rehabilitating its environmental vitality. Efforts to reforest the campus with native flora started in April 2018. Since then, groups of volunteers have been planting local forest trees and shrubs there almost every weekend. As of 1 January 2022, 1085 trees and numerous shrubs have been planted, making the campus grounds truly pleasant as well as rejuvenating the ecosystem.
Working together in harmony
Every Saturday became a gathering of nature-lovers and hard-working gardeners labouring joyfully under the sun and rain.  Over the months, they have also forged close camaraderie and friendship while working harmoniously together.  Let us thank these wonderful "green warriors" and rejoice over their untiring efforts to green and beautify the Wisdom Park campus.  Join our earnest effort to return what humankind has taken and restore the tranquillity of nature for generations to come.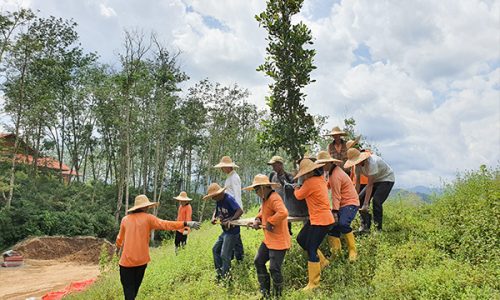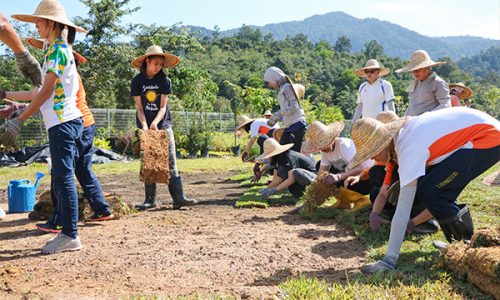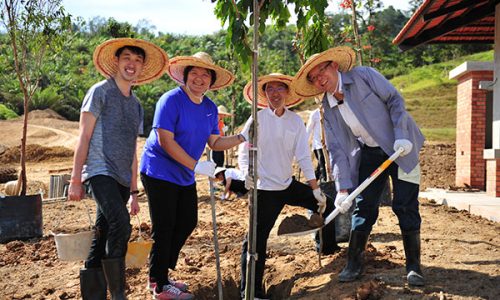 "Every window is a canvas; the vibrant greenery and tropical landscape is a painting on it's own."